MitchCap is the leading
Non-bank Distribution
Finance Lender
in Australia.
MitchCap provides the funding and the data that connects the distribution channel
The equipment distribution channel, valued at over $300B, is a fragmented landscape consisting of:
Australian Dealer Application
New Zealand Dealer Application
MitchCap's floorplan finance key features
We're here to optimise your inventory, improve cash flow, and drive sales growth. Contact us today to explore how we can support your business success.
1. 100% Advance on Equipment Inventory
Our floorplan finance offers the advantage of receiving 100% advance on your equipment inventory.
2. Two-year Term per Equipment Inventory
With our floorplan finance solution, you can enjoy a flexible 2-year term for each equipment inventory.
3. Market-Leading Credit Capacity
We take pride in our market-leading credit capacity, which means that we have the financial strength and resources to support your equipment financing requirements.
4. Funding Equipment Held for Sale or Rent
Our floorplan finance extends beyond supporting equipment held for sale; it also covers equipment held for rent.
5. Cross-Border Factory Payments
In today's globalised economy, cross-border transactions are becoming increasingly common.
6. OEM-Backed Approved Distributor Programs
We offer a range of OEM-backed approved distributor programs, which are the most extensive in the market for Marine, RV, Motorbike, Bicycle, and Agri machinery industries.
7. Servicing Australia and New Zealand Wide
We are proud to serve clients throughout Australia and New Zealand
Our floorplan finance solution is available across both countries, ensuring that businesses in various industries can access our services and capitalise on the opportunities available in these markets.
Our Connected Equipment Distribution Ecosystem
The equipment distribution industry, with a staggering value of over $300 billion, is a complex and fragmented landscape. It comprises 3,000 original equipment manufacturers (OEMs), 2,000 distributors, 12,000 dealers, and serves a massive user base of 10 million individuals.
At our core, we envision creating a comprehensive ecosystem for equipment distribution that seamlessly brings together all elements of the fragmented channel.
Our approach revolves around leveraging the power of data from floorplan financing as the foundation. By doing so, we aim to bridge the gaps and connect OEMs, distributors, dealers, and, ultimately, millions of users within this vast industry.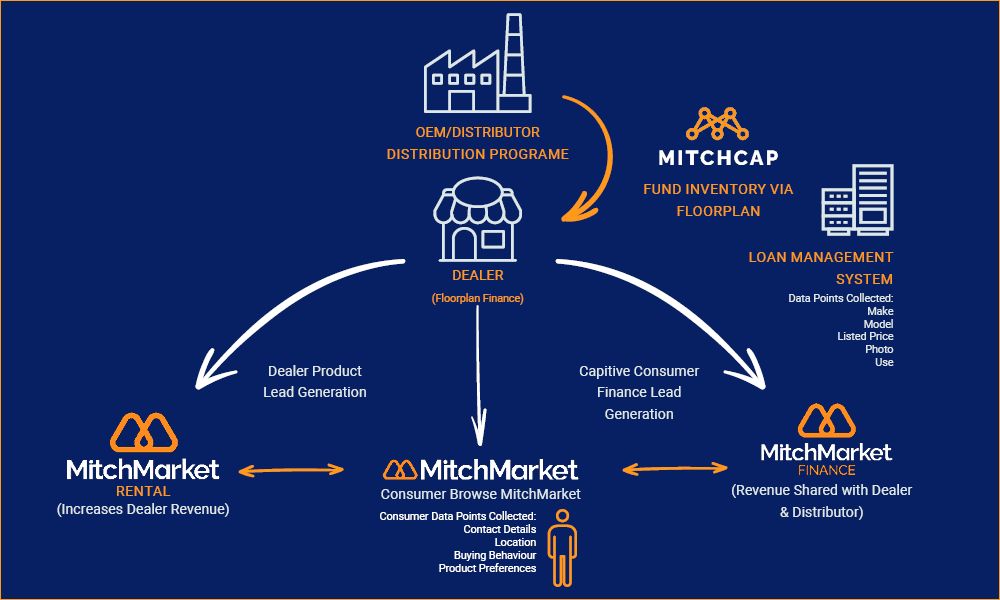 MitchCap is the leading Non-Bank Distribution Financier
Market leaders in Marine, RV, Motorbike, Bicycle and Agriculture equipment
MitchMarket.com is our dedicated dealership online marketplace which connects consumers direct to you and your stock.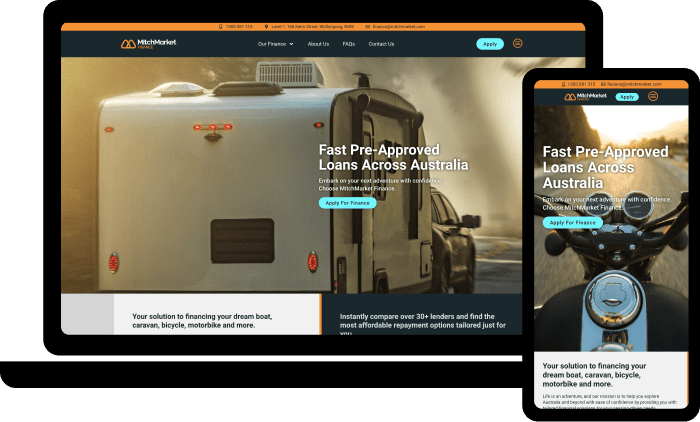 MitchMarket Finance provides fast pre-approved loans from over 30+ leading lenders for your customers.
Our financial strength ensures that we can provide unwavering support.
Connect with us today.